Still working to recover. Please don't edit quite yet.
Ursula K. Le Guin
Aus <a href="http://deu.anarchopedia.org/Ursula_K._Le_Guin">Anarchopedia</a>, dem offenen Wissensportal für und von AnarchistInnen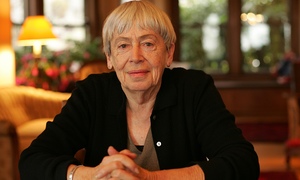 Ursula Kroeber Le Guin (*21. Oktober 1929 in Berkeley (Kalifornien), (USA) ist eine US-amerikanische Autorin hauptsächlich fantastisch-utopischer Literatur (Science Fiction und Fantasy).
Ursula K. Le Guin ist die Tochter der Schriftstellerin Theodora Kroeber und des Professors für Anthropologie Alfred Kroeber. Sie erhielt an der Columbia University den Magistergrad. 1953 heiratete sie den Professor für Geschichte Charles A. Le Guin.
Sie hat für ihre Bücher eine Reihe von Auszeichnungen erhalten. Viele ihrer Bücher handeln zwar auf fernen Planeten, behandeln jedoch Fragestellungen, die universell bedeutsam sind. (Siehe dazu auch ihre Einleitung zu The Left Hand of Darkness.)
Ihr Schaffen umfasst neben vielen Romanen und Kinderbüchern auch Essays, Rezensionen und Übersetzungen.
Sie schrieb den einzigen anarchistischen Science-Ficttion-Roman. Ãœber ihre Recherchen sagte sie: "Ich war sehr erstaunt, als ich in Vorbereitung meines Werkes anarchistische utopische Romane lesen wollte, um zu sehen, wie es andere Autoren gemacht hatten - aber es gab einfach nichts. Ich musste mir alles selbst ausdenken."
Siehe auch
[
edit
]
Literatur
[
edit
]
Weblinks
[
edit
]