Still working to recover. Please don't edit quite yet.
Mother Earth
Aus <a href="http://deu.anarchopedia.org/Mother_Earth">Anarchopedia</a>, dem offenen Wissensportal für und von AnarchistInnen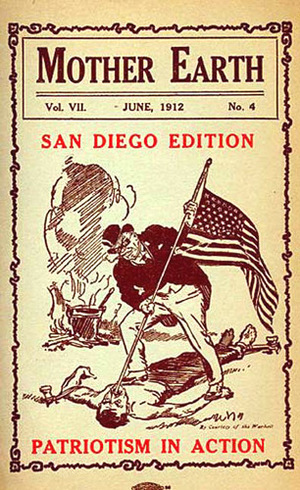 Mother Earth war eine anarchistische Zeitschrift welche erstmals im März 1906 von der Anarchistin Emma Goldman herausgegeben wurde. Alexander Berkman war der Setzer der Zeitschrift.
1917 begann Mother Earth offen gegen den Eintritt der USA in den 1. Welt Krieg und für zivilen Ungehorsam gegen die Wehrpflicht aufzurufen. Am 15. Juni 1917 erließ der Kongress ein Gesetzt welches die Einmischung in die Außenpolitik und "Spionage" unter Strafe stellte. Das Gesetzt ermöglichte Gefängnis Strafen von bis zu 20 Jahre für all diejenigen die den Wehrdienst verweigern oder "Abtrünnigkeit" gegenüber der us-amerikanischen Regierung fördern. Als Emma Goldman und Alexander Berkman allerdings weiterhin gegen den Einzug zum Wehrdienst vor fuhr wurde Goldmann's Büro bei Mother Earth durchsucht und die Adressen der Abonnenten von Mother Earth sowie Berkmann's The Blast konfisziert.
Mother Earth wurde bis zu der Deportation von Goldman und Berkamn im August 1917 monatlich herausgegeben.
Mitwirkende
[
edit
]
Es folgt eine Liste von Mitwirkenden die Essays oder Gedichte in Mother Earth veröffentlichten:
Es folgt eine Liste von einigen KünsterInnen des Covers:
siehe auch
[
edit
]
Zeitschriften, Emma Goldman, Alexander Berkman
Weblinks
[
edit
]
Kategorie:Zeitschriften (historisch) Kategorie:Zeitschriften (englisch)